Guitar Hero 3 Guitar Solos PS2 ISO [Ntsc] [MG-GD]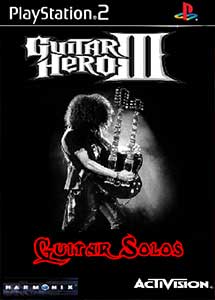 Descarga el juego de Guitar Hero 3 Guitar Solos para la consola PlayStation 2 en formato ISO por Google One y MEGA.
INFORMACIÓN
Esta no es una versión oficial, es un mod para el Guitar Hero III Legends of Rock, en el cual se sustituyen las canciones originales. Se puede jugar en cualquier dificultad.
LISTA DE CANCIONES
1º
Farewell Ballad Solo – Zakk Wylde
The Godfather Theme – Slash
Canon Rock – Jerry C.
DBZ Budokai 3 Theme – Playstation 2
Cop: No Gravity – Kiko Loreiro
Encore: Race Into The Light – Chris Impelliteri
2º
Vivald S Winter – Dark Moor
We Three Kings – Steve Ouittemete
Bad Horsie – Steve Vai
King Of The Monsters – Racer X
Cop: Blue – Yngwie Malmsteen
Encore: Glasgow Kiss – John Petrucci
3º
Tribute To Randy – Michael Angelo Batio
Enfermo – Kiko Loureiro
Soothsayer – Buckethead
For The Love Of God – Steve Vai
Cop: Curse Of Casttle Dragon – Paul Gilbert
Encore: Really Fast Solo – Steve Vai And Yngwie Malmsteen
4º
Brasileirinho – Pepeu Gomes
Hall Of The Mountain King – Apocalypta
Visualize Permanent Damnation – Dying Fetus
17th century chicken pickin' – Chriss Impelliteri
Cop: Camel Night Out – Eric Jhonson
Encore:The Crusade – Trivium
5º
Curve – John Petrucci
Surfing With Alliens – Joe Satriani
Notthingham Lace – Buckethead
Michael Angelo Batio – No Boundaries
Cop:Perpetual Burn – Jason Becker
Encore: Blitzkrieg – Yngwie Malmsteen
6º
Jordan – Buckethead
Scarifield – Paul Gilbert
Concerto – Cacophony
Technical Dificulties – Racer X
Cop:Speed Kills – Michael Angelo Batio
Encore:Hundreds Of Thousands – Tony Macpline
7º
Far Beyond The Sun – Yngwie Malmsteen
Black Widow Of La Porte – John5
Go Off! – Cacophony
Braingate – Buckethead
Encore: Soul A Robot – John5
8º
Get Out Of My Yard – Paul Gilbert
Guitars Suck! – Bumblefoot
My Spirit Lives On! – Manowar
27 Needles -John 5
TEMAS BONUS
Guns N Roses – Chinese Democracy
Ozzy Osbourne – Mr.Crowley
Metallica – Mater Of Puppets
System Of a Down – Vicinity Of Obscenity
Megadeth – Tornado Of Souls
Dream Theater – As I Am
Dragondorce – Operation Ground and Pound
Rhapsody – Flames Of Revenge
Sonata Arctica – 8th Commandment
Eddie Van Halen – Eruption
Avenged Sevenfold – Eternal Rest
Symphony X – Inferno
Trivium – Into The Mouth Of Hell We March
Iron Maiden – Dance Of Death
Buckethead – Arch Of Pendulum
Dragonforce – Revolution Death Squad
Splipknot – Psychosocial
Sonata Arctica – Wolf And Raven
Childreen Of Bodom – Hate Me!
Heavenly – Evil
Mad Racer – Top Gear
Slash Guitar Battle – Slash
Lou Guitar Battle – Steve Ouittemete
Joe Perry Guitar Battle – Joe Perry
Seven – Symphony X
Guitar Hero 3 Guitar Solos para PS2 Ficha Técnica
Región NTSC
Para poder extraer este comprimido se necesita la versión de WinRar 5.40 o superior.
Formato: ISO
Región: NTSC
Idioma: (Inglés)
Plataforma: PlayStation 2
Peso: 1.95 GB
Servidor: MEGA
   Parte 1    Parte 2
Servidor: Google Drive
   Parte 1    Parte 2
Tutoriales
¿Como descargar?