Anime Hero IV Spirit Burning PS2 ISO [Ntsc] [MG-MF]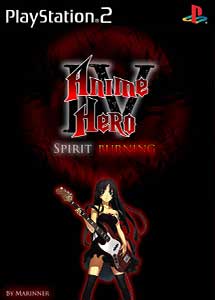 Descarga el juego de Guitar Hero 3 Anime Hero 4 Spirit Burning para la consola PlayStation 2 en formato ISO por MediaFire, Openload y MEGA.
Informacicón
Esta no es una versión oficia,l es un mod para el Guitar Hero III Legends of rock en el cual se sustituyen las canciones originales. Se puede jugar en las 4 dificultades. Al tratarse de un mod el juego puede presentar bugs, sobre todo en la jugabilidad.
Lista de canciones
Deltora Quest Yubikiri Genman
Naruto Yura Yura
One Outs Moment
Gintama Light Infection
Full Metal Alchemist: Brotherhood Again
2:
Inuyasha Kanketsu-hen Kimi ga Inai Mirai
Darker Than Black The Hero Without A Name
Katekyo Hitman REBORN! Easy Go
Ouran High School Host Club Shissou
Capeta Doukasen
3:
K-on Fudepen ~Ballpen~
Dragon Balll Kai Dragon Soul
Naruto Seishun Kyousoukyoku
Mouryou no Hako Naked Love
Yu-Gi-Oh! 5Ds OZONE
4:
Yu-Gi-Oh 5Ds Last Train
Full Metal Alchemist: Brotherhood Hologram
Air Master Rolling1000toon
Mouryou no Hako Lost in Blue
Blood Plus Raion
5:
Gintama Stairway Generation
Yu-Gi-Oh 5Ds Cross Game
K-On! Cagayake! Girls
Naruto: Shounen-hen Summer Freak
Fairy Tail Snow Fairy
6:
Bleach Anima Rossa
Persona ~Trinity Soul~ Word of the Voice
K-On! Don´t Say "Lazy"
Darker Than Black ~Ryuusei no Gemini~ From Dusk Till Dawn
Naruto Shippuden Sign
7:
Samurai X Sobakasu
Tokyo Magnitude 8.0 Kimi no Uta
Naruto Shippuuden Shinkokyuu
Shakugan no Shana 2 Joint
Gundam Victory Stand Up
8:
Sengoku Basara JAP
Mobile Suit Gundam 0079 Meguriai
Needless modern strange cowboy
Kurokami tRANCE
Bônus:
Saint Seiya The Lost Canvas O Reino de Atena
Mar – Marchens Awakens Romance Haredokei
Full MetalAlchemist: Brotherhood LET IT OUT
Bakugan Battle Brawlers Number One Battle Brawlers
One Outs Bury
Yu-Gi-Oh! 5Ds Freedom
Kinnikuman Honoo no Kinnikuman
Fairy Tail Kanpeki gu~no ne
Claymore Danzai no Hana ~ Guilty Sky
Zoids Wild FlowersDragon Ball Kai Muteki AURA no Energy
Gintama Wonderful days
Outlaw Star Through The Night
Bleach Mad Surfer
Eyeshield 21 Honoo no Running Back
Sora no Otoshimono Ring My Bell
Seitokai no Ichizon Treasure
Soul Eater Paper Moon
Full MetalAlchemist Brotherhood Uso
Deltora Quest Go To Fly
Katekyo Hitman REBORN! Funny Sunny Day
Fairy Tail Sense of Wonder
Bakugan Battle Brawlers Air Drive
Mar – Marchens Awakens Romance Kimi no Omoi Egaita Yume
Bleach Shoujo S
Cooperative:
Kurozuka Systematic People
K-On Tsubasa o Kudasai
Naruto Shippuuden Omae Dattanda
Slam Dunk Zettai Ni Dare Mo
Kampfer Unreal Paradise
Darker Than Black ~Ryuusei no Gemini~ Tsukiakari no Michishirube
Anime Hero IV Spirit Burning para PS2 Ficha Técnica
Región NTSC
Para poder extraer este comprimido se necesita la versión de WinRar 5.40 o superior.
Formato: ISO
Región: NTSC
Idioma: (Inglés)
Plataforma: PlayStation 2
Peso: 1.95 GB
Servidor: MEGA
   Parte 1    Parte 2
Servidor: MediaFire
   Parte 1    Parte 2
Servidor: Openload
   Parte 1    Parte 2
Tutoriales
¿Como descargar?