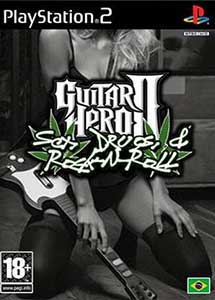 Descarga el juego de Guitar Hero II Sex Drugs & Rock N Roll para la consola PlayStation 2 en formato ISO por MediaFire y MEGA.
INFORMACIÓN
Esta no es una versión oficial es un parche para el Guitar Hero 2, en el cual se sustituyen las canciones originales.
Lista de canciones
1. JOHN'S BAR
Cheeseburger In Paradise – Jimmy Buffett
Through the Monsoon – Tokio Hotel
Yellow – Coldplay
Snow (Hey Oh) – Red Hot Chili Peppers
ENCORE Problems (Live at Brixton) – Sex Pistols
2. SUBURB'S BAR
Train In Vain – The Clash
Les Wampas – Manu Chao
Roxanne – The Police
Summertime Blues (Live) – The Who
ENCORE Gimme Three Steps – Lynyrd Skynyrd
3. ED SULLIVAN SHOW
This Ain't A Scene/It's An Arms Race – Fall Out Boy
Beetlebum – Blur
Rio – Duran Duran
Crushcrushcrush – Paramore
ENCORE Run to the Hills – Iron Maiden
4. ABANDONED FACTORY
She Builds Quick Machines – Velvet Revolver
Toxicity – System of a Down
Here Comes Your Man – The Pixies
Brass In Pocket – The Pretenders
ENCORE …And Justice for All – Metallica
5. ROYAL ALBERT HALL
No More Sorrow – Linkin Park
Any Way You Want It – Journey
(We Are) The Road Crew – Motorhead
Rock 'n' Roll Star – Oasis
ENCORE Putting Holes in Happiness – Marilyn Manson
6. FREE MEDICINAL HERB CONCERT
Hangin' on the Telephone – Blondie
Jukebox Hero – Foreigner
The Pretender – Foo Fighters
Zero – Smashing Pumpkins
ENCORE Teenagers – My Chemical Romance
7. DEMOLITION FESTIVAL
Don't Speak – No Doubt
Supermassive Black Hole – Muse
China Cat Sunflower – Grateful Dead
Cherry Bomb – The Runaways
ENCORE Closer To The Heart – Rush
8. WOODSTOCK BRAZIL
Hard To Handle – The Black Crowes
Halo Theme MJOLNIR Mix – O'Donnell/Salvatori/Vai
Aesthetics Of Hate – Machine Head
Top Gun Anthem – Steve Ouimette
ENCORE Surfing With the Alien – Joe Satriani
BONUS
Slash Guitar Battle – Slash
Tom Morello Guitar Battle – Tom Morello
My Generation (Live) – The Who
Behind Blue Eyes – The Who
Who Are You – The Who
Working Man (Vault Ed.) – Rush
Casey Jones – Grateful Dead
Sin Documentos – Los Rodriguez
B.Y.O.B – System of a Down
Enter Sandman – Metallica
Slither – Velvet Revolver
Violet Hill – Coldplay
This Is a Call – Foo Fighters
Excuse Me Mr. – No Doubt
Siva – Smashing Pumpkins
Heroes of Our Time – Dragonforce
Sleep Walker – Megadeth
This Calling – All That Remains
She Does – Locksley
Get Your Rock On – The Janitors
Girls on Film – Duran Duran
Skullcrusher Mountain – Jonathan Coulton
Famous for Nothing – Dropkick Murphy's
I am Murloc – Level 70 Elite Tauren Chieftain
Guitar Hero II Sex Drugs & Rock N Roll para PS2 Ficha Técnica
Región NTSC
Formato: ISO
Región: NTSC-U | SLUS-21447
Idioma: (Inglés)
Plataforma: PlayStation 2
Peso: 1.84 GB
Servidor: MEGA
   Parte 1    Parte 2
Servidor: MediaFire
   Parte 1    Parte 2
Tutoriales
¿Como descargar?