Guitar Hero Gold Edition PS2 ISO [Ntsc] [MG-MF]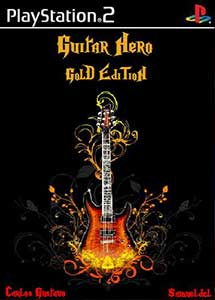 Descarga el juego de Guitar Hero 2 Gold Edition para la consola PlayStation 2 en formato ISO por MediaFire, MegaUp y MEGA.
INFORMACIÓN
Esta no es una versión oficial en un mod para el Guitar Hero II en el cual se sustituyen las canciones originales. Puede contener bugs en la jugabilidad.
LISTA DE CANCIONES
Dr. Sin – Futebol,Mulher e Rock 'n Roll
Fresno – Uma musica
Lady Gaga – Love game
Lady Gaga – Poker face
Katy Perry – Tenage dream
Leandro Lopes – Beijo,Tchau
NX Zero – So rezo
Mamonas Assassinas – 1406
Pitty – Me adora
Pitty – Memorias
Nickelback – Savin' Me
Nickelback – Hero
Red Hot Chili Pepers – Scar Tissue
Strike – A Tendencia
Kesha -_we_r_who_we_r
Travie McCoy ft. Bruno Mars – Bilionaire
Massacration -Sufocator of Metal
Simple Plan – Perfect
Pitty – Admiravel Chip Novo
Michael Jakcson – Dont stop til you get enough
Linkin Park – Numb
Fresno – Desde quando voce se foi
Charlie Brown Jr. – Me Encontra
30 Seconds To Mars – From Yesterday
CPM 22 – Irreversivel
21 Guns – Grean Day
Maroon 5 – This Love
Simple Plan – You Love is a Lie
Cassia eller_O_Segundo_Sol
Linkin Park – In the End
Linkin Park – Given Up
Charlie Brown Jr – So Por Uma Noite
Pitty – Equalize
Simple Plan – Crazy
Charlie Brown Jr – Lutar Pelo que é Meu
Luxuria – Odio
Europe – The Final Countdown
Iron Maiden – Wasting Love
Atmos Fenix – Vagabundo o Que
Angra – Carry on
Guitar Hero Gold Edition para PS2 Ficha Técnica
Región NTSC
Para poder extraer este comprimido se necesita la versión de WinRar 5.40 o superior.
Formato: ISO
Región: NTSC
Idioma: (Portugués)
Plataforma: PlayStation 2
Peso: 1.70 GB
Servidor: MEGA
   Parte 1    Parte 2
Servidor: MediaFire
   Parte 1    Parte 2
Servidor: MegaUp
   Parte 1    Parte 2
Tutoriales
¿Como descargar?