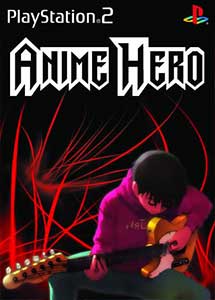 Descarga el juego de Guitar Hero 2 Anime Hero I para la consola PlayStation 2 en formato ISO por MediaFire, Openload y MEGA.
Información
Esta no es una versión oficial en un mod para el Guitar Hero II en el cual se sustituyen las canciones originales. Se puede jugar únicamente en las dificultades de normal y experto. Al tratarse de un mod el juego puede presentar bugs, sobre todo en la jugabilidad.
Lista de canciones (sin ordenar)
Beck
Beat Crusaders – Hit In USA
Beck – Face
Tropical Gorilla – Brainstorm
Sowelu – Moon on the Water (Full Moon Sway)
Bleach
Yui – Rolling Star
Aqua Times – Alones
UVER World – D-tecnoLife
HIGH and MIGHTY COLOR – Ichirin no Hana
ASIAN KUNG FU GENERATION – After Dark
Blue Dragon
Keita Tachibana – Friend
Busou Renkin
Yoshiki Fukuyama – Makka na Chikai,
Cavaleiros do Zodíaco
Hinobu Kageyama – Pegasus Fantasy
Darker Than Black
Abingdon Boys School – Howling
Death Note
Nightmare – The WORLD
Nightmare – Alumina
Maximum the Hormone – What's Up People?
Maximum the Hormone – Zetsubou Billy
Deltora Quest
MARIA – Heart Beat
DGray-Man
Abingdon Boys School – Innocent Sorrow
Nami Tamaki – Brightdown
Mai Hoshimura – Regret
UVERworld – Gekidou
Digimon
Brave Heart
Miyazaki Wataru – Break Up!
Wada Kouji – Butterfly
Wada Kouji – Fire!
Wada Kouji – The Biggest Dreamer
Dragon ball Z
Cha-la Head Cha-la (en Portugués)
Dragon Ball GT
Meu Alegre coração (en Portugués)
El Hazard
Opening (en Portugués)
EyeShield 21
ZZ – Be Survivor
Coming Century – Breakthrough
Hunter x Hunter
Keno – Ohayou
Full Metal Alchemist
Nana Kitade – Kesenai Tsumi
Porno Graffiti – Melissa
Asian Kung-FU Generation – Rewrite
L'Arc-en-Ciel – Ready Steady Go
Hajime no Ippo
Shocking Lemon – Under Star
Mori Naoya – 360 Degrees
Shocking Lemon – Inner Light
Kiba
Afromania – Very Very
Naruto
Asian kung-FU Generation – Haruka Kanata
Orange Range – Viva Rock
Long Short Party – Distance
Flow – Go
One Piece
Folder 5 – Believe
Bon Bon Blanco – Bon_Voyage!
Hiroshi Kitadani – We Are
Sogeking
Pokemon
Tema de Pokemon (en Portugués)
Power Ranger
Mighty Morphin Power Rangers (GO GO POWER RANGERS!)
Rurouni Kenshin
Siam Shade – No Junjou na kanjou
Shurato
Opening
Tengen Toppa Gurren Lagann
Nakagawa Shouko – Happily Ever After
Afromania – Minna No Peace
Shoko Nakagawa – Sorairo Days
Tokusatsu
Tokkei Winspector
Sekai Ninja Sen Jiraya
Maskman
Dengeki Sentai Changeman
Daileon
Jaspion
Extras
Nintendo – Top gear
Maximum the Hormone – Koi no Mega Lover
Anime Hero I para PS2 Ficha Técnica
Región NTSC
Tutoriales
¿Como descargar?