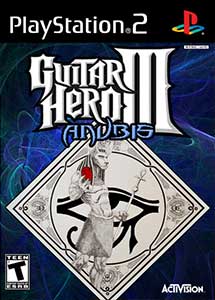 Descarga el juego de Guitar Hero 3 Anubis para la consola PlayStation 2 en formato ISO por MediaFire, Google One y MEGA.
INFORMACIÓN
Esta no es una versión oficial es un mod del Guitar Hero III Legends of Rock, en el cual se sustituyen las canciones originales. Se puede jugar en los 4 niveles de dificultad.
Lista de Canciones
1. Starting Out Small
.38 Special – Hold on Loosely
Boston – More Than A Feeling
Dio – Holy Diver
Scorpions – No One Like You
Encore: Aerosmith – Dream On
Coop Encore: Twisted Sister – I Wanna Rock"
2. Your First Real Gig
Cream – Crossroads
Jimi Hendrix – Spanish Castle Magic
Queens of the Stone Age – No One Knows
Ratt – Round and Round
Encore: s­y­s­t­e­m Of A Down – Toxicity
Coop Encore: Red Hot Chili Peppers – Tell Me Baby
3. Making the Video
Sum 41 – Fat Slip
My Chemical Romance – Famous Last Words
The All-American Rejects – Dirty Little Secret
The Used – Pretty Handsome Awkward
Encore: Queens of The Stone Age – Little Sister
Coop Encore: Metallica – Enter Sandman
4. European Invasion
Blue Oyster Cult – Godzilla
Stevie Ray Vaughan – Texas Flood
Billy Squier – Lonely is the Night
The Smashing Pumpkins – Zero
Encore: Judas Priest – You Got Another Thing Comin
Coop Encore: Iron Maiden – Wrathchild
5. Bighouse Blues
Boston – Fore play long time
Muse – Hysteria
Winger – Seventeen
My Chemical Romance – Teenagers
Encore: The Knack – My Sharona
Coop Encore: The Edgar Winter Group – Frankenstein
6. The Hottest Band on Earth
Red Hot Chili Peppers – Dani california
Avenged Sevenfold – Almost Easy
Mastodon – Sleeping Giant
Disturbed – Indestructible
Encore: My Chemical Romance – Dead
Coop Encore: DragonForce – Revolution Deathsquad
7. Live in Japan
Pantera – Cowboys From Hell
Freezepop – Get Ready 2 Rokk
Run-D.M.C. featuring Aerosmith – Walk This Way
s­y­s­t­e­m Of A Down – BYOB
Encore: Judas Priest – The Hellion/Electric Eye
8. Battle for Your Soul
Extreme – Play With Me
Muse – Stockholm Syndrome
Ozzy Osbourne – Bark at the Moon
The Outlaws – Green Grass and High Tides
Bonus Tracks
Metallica – …And Justice for All
Machine Head – Aesthetics Of Hate
Avenged Sevenfold – Afterlife
DevilDriver – Clouds Over California
Dream Theater – Constant Motion
Avenged Sevenfold – Critical Acclaim
Drist – Decontrol
Black Label Society – Fire It Up
Steve Vai – For the Love of God
DragonForce – Heroes of Our Time
Disturbed – Inside the Fire
Aerosmith – Love in an Elevator
Motorhead – Motorhead
DragonForce – Operation Ground and Pound
Disturbed – Perfect Insanity
Marilyn Manson – Putting Holes in Happiness
Metallica – Ride The Lightning
Airbourne – Running Wild
Judas Priest – Screaming for Vengeance
Megadeth – Sleep Walker
Joe Satriani – Surfing with the Alien
Coheed and Cambria – Ten Speed (Of God's Blood and Burial)
Steve Ouimette – We Three Kings
Rush – Working Man
Buckethead – Soothsayer
Guitar Hero III Anubis para PS2 Ficha Técnica
Región NTSC
Tutoriales
¿Como descargar?