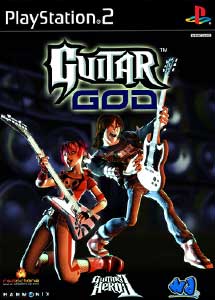 Descarga el juego de Guitar Hero II God 1.0 para la consola PlayStation 2 en formato ISO por MediaFire, MEGA y 1fichier.
Información
Esta no es una versión oficial, es un mod para el Guitar Hero 2 en el cual se sustituyen las canciones originales. Puede contener bugs en la jugabilidad. Solo se puede jugar en dificultad experto.
Lista de canciones
1. Séries e Animes:
01. Angra/ Pegasus Fantasy Instrumental(Saint Seiya)
02. Asian Kung Fu Generation/ Haruka Kanata(Naruto)
02. Jason Paige/ Pokemon Main Theme
04. The Rembrants/ I"ll Be There For You (F.R.I.E.N.D.S Theme)
05. Iron Maiden/ Mighty Morphin Power Rangers
2. Metal:
01. Iron Maiden / Fear of the Dark
02. Angra/ Carry On
03. Avenged Sevenfold/ Bat Country
04. Slipknot/ Before I Forget
05. Dragonforce/ Through the Fire and Flames
3. Seleção 1:
01. Nirvana/ Smells Like Teen Spirit
02. Muse/ Hysteria
03. Linkin' Park/ A Place For My Head
04. Dropkick Murphys/ Shipping up to Boston
05. Engenheiros do Hawaii/ Era um Garoto
4. Seleção 2:
01. Sublime/ Santeria
02. Jerry C./ Pachabel's Canon
03. Three Days Grace/ I Hate Everything About You
04. Elvenking/ Seasonspeech
05. Van Halen/ Panama
5. Seleção 3:
01. Helmet/ Unsung
02. The Black Mages/ Those Who Fight Further
03. Lynyrd Skynyrd/ Sweet Home Alabama
04. Helloween/ I Want Out
05. Pantera/ Cowboy's From Hell
6. Seleção 4:
01. Trans-Siberian Orchestra/ A Last Illusion
02. Chavie/ Johnny B. Goode
03. Shadows Fall/ Redemption
04. ………………System……………… Of A Down/ Chop Suey
05. Avenged Sevenfold/ The Wicked End
7. Difíceis:
01. Joe Satriani/ Surfing With The Alien
02. Andrew Buch/ Tripollette
03. Pantera/ Cemetery Gates
04. Ozzy Osbourne/ Bark at the Moon
05. The Living End/ Prisoner Of Society
8. Quase Impossíveis:
01. Deep Purple/ Highway Star
02. Armandinho/ Brasileirinho
03. Liquid Tension Experiment/ Universal Mind
04. Cacophony/ Concerto
05. Dragonforce/ Fury of the Storm
Bonus (26 temas):
01. George S. Clinton/ Mortal Kombat Theme
02. SR-71/ Goodbye
03. Rhapsody of Fire/ Emerald Sword
04. Dream Theater/ As I Am
05. Rise Against/ Give It All
06. Dream Theater/ A Change of Seasons
07. Breaking Benjamin/ The Diary of Jane
08. ………………System……………… of a Down/ Toxicity
09. Avenged Sevenfold/ M.I.A
10. Angra/ The Temple of Hate
11. Trivium/ The Crusade
12. Red Hot Chili Peppers/ By the Way
13. Jimmi Hendrix/ Voodoo Child (Slight Return)
14. Yngwie Malmsteen/ Vengeance
15. Heavenly/ Evil
16. Apocalyptica/ Hall of the Mountain King
17. Stevie Ray Vaughan/ Rude Mood
18. Iron Maiden/ Phantom of the Opera
19. The Eagles/ Hotel California
20. Deliverance/ Duelling Banjos
21. Blur/ Song 2
22. Stratovarius/ Speed of Light
23. Puffy AmiYumi/ Teen Titans Theme
24. Dark Moor/ Vivaldi's Winter
Guitar Hero II God 1.0 para PS2 Ficha Técnica
Región NTSC
Formato: ISO
Región: NTSC-U | SLUS-21447
Idioma: (Portugués)
Plataforma: PlayStation 2
Peso: 1.91 GB
Servidor: MEGA
   Parte 1    Parte 2
Servidor: MediaFire
   Parte 1    Parte 2
Servidor: 1fichier
   Parte 1    Parte 2
Tutoriales
¿Como descargar?