Anime Hero Zero 2 PS2 ISO [Ntsc] [MG-MF]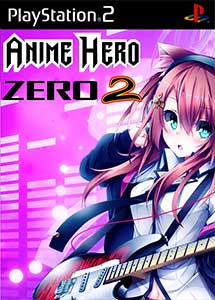 Descarga el juego de Guitar Hero II Anime Hero Zero II para la consola PlayStation 2 en formato ISO por MediaFire, Openload y MEGA.
Información
Esta no es una versión oficial en un mod para el Guitar Hero 2 en el cual se sustituyen las canciones originales. Se puede jugar en las dificultades de medio y experto. Al tratarse de un mod el juego puede presentar bugs, sobre todo en la jugabilidad.
Lista de canciones
01-
Sign – Naruto Shippuden
Papermoon – Soul Eater
My Soul, Your Beats! – Angel Beats!
Tenshi ni Fureta yo! – K-ON!
Harukaze – Bleach
02-
Hello, world – Kekkai Sensen
Mienai Chikara – Jigoku Sensei Nube
Paradisus-Paradoxum – Re:Zero kara Hajimeru Isekai Seikatsu
Lovers – Naruto
Zankoku na Tenshi no These – Evangelion
03-
Go! Go! Here We Go! Rock Lee! – Naruto SD: Rock Lee no Seishun Full-Power Ninden
No pain, No game – Btooom!
World is Mine – Hatsune Miku
Fuwa Fuwa Time – K-ON!
No Scared – One Ok Rock
04-
Chozetsu Dynamic! – Dragon Ball Super
Jump Around – Fear, And Loathing in las Vegas
Liar Mask – Akame ga Kill!
Chase the Light! – Gyakkyou Burai Kaiji: Hakairoku-hen
Clattanoia – Overlord
05-
Kyouran Hey Kids!! – Noragami Aragoto
Chase – JoJo's Bizarre Adventure: Diamond Is Unbreakable
Blood Circulator – Naruto Shippuden
Re:Re – Boku dake ga Inai Machi
Just Awake – Hunter X Hunter 2011
06-
The Hero !! – One Punch Man
Megitsune – Babymetal
XYZ – Pokémon XYZ
Tryptich – Siam Shade
The Girl In Byakkoya – Paprika
Anime Hero Zero 2 para PS2 Ficha Técnica
Región NTSC
Para poder extraer este comprimido se necesita la versión de WinRar 5.40 o superior.
Formato: ISO
Región: NTSC
Idioma: (Inglés)
Plataforma: PlayStation 2
Peso: 1.05 GB
Servidor: MEGA
   Parte 1    Parte 2
Servidor: MediaFire
   Parte 1    Parte 2
Servidor: Openload
   Parte 1    Parte 2
Tutoriales
¿Como descargar?