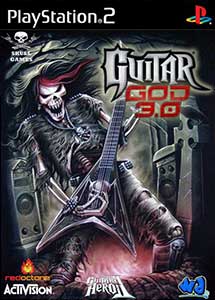 Descarga el juego de Guitar Hero II God 3.0 para la consola PlayStation 2 en formato ISO por MediaFire, MEGA y Letsupload.
Información
Esta no es una versión oficial, es un mod para el Guitar Hero 2 en el cual se sustituyen las canciones originales. Puede contener bugs en la jugabilidad. Solo se puede jugar en dificultad experto.
Lista de canciones
1- CLÁSSICOS
We care a lot – Faith no More
The man who sold the World – Nirvana
Patience – Guns'n Roses
Wasting Love – Iron Maiden
Wanted dead or Alive – Bon Jovi
2- CLÁSSICOS & HITS
Wish you were here – Pink Floyd
Man in the Box – Alice in chains
Scar Tissue – Red hot chili Peppers
Papercut – Linkin Park
Love in an Elevator – Aerosmith
3- TEEN 90/2000
My Hero – Foo Fighters
American Jesus – Bad religion
Hand of Blood – Bullet for my valentine
Joker and the Thief – Wolfmother
The Bull – Massacration
4- SUB-GÊNEROS VARIADOS
Blow – Atreyu
Get the Funk out – Extreme
Seek and Destroy – Metallica
My Curse – Killswitch Engage
Betrayed – Avenged Sevenfold
5- METALHEADS
Highway Song – System of a down
Stricken – Disturbed
The number of the beast – Iron maiden
Painkiller – Judas Priest
Tornado of souls – Megadeth
6- RED&METAL
Venice Queen – Red hot chili Peppers
Don't say a word – Sonata Arctica
Nightmare – Avenged Sevenfold
Holy Wars – Megadeth
Turn Soonest to the Sea – Protest the Hero
7- DIFÍCEIS I
Duality – Slipknot
B.Y.O.B – System of a Down
Panic Attack – Dream Theater
Dead art in a Plainfield – John 5
Nova Era – Angra
8- DIFÍCEIS II
War Ensemble – Slayer
Halloween – Helloween
All Nightmare Long – Metallica
Seven – Symphony X
The Devil went down to Georgia – Steve Ouimette
MÚSICAS BÔNUS:
Faroeste Caboclo – Legião Urbana
Beelzeboss – Tenacious D
He-Man Woman Hater – Extreme
The Mummy – Massacration
Rage of the Winter – Rhapsody of Fire
Beneath the Mire – Opeth
17th Century chikin pickin' – Impellitteri
Psychosocial – Slipknot
Save Me – Avenged Sevenfold
Hallowed be thy Name – Iron Maiden
E. P. M. (Extreme Power Metal) – Dragonforce
…And Justice for All – Metallica
The Walls of Babylon – Symphony X
Speed Metal Messiah – Joe Stump
Never Understand – Angra
Black Sheep – Sonata Arctica
Learning to Live – Dream Theater
Kissing the Shadows – Children of Bodom
Waking the Demon – Bullet for my Valentine
Nemesis – Arch Enemy
Far Beyond the sun – Yngwie Malmsteen
Alone in the Dark – Testament
Stepping outside the Circle – Shadows Fall
Guitar Hero II God 3.0 para PS2 Ficha Técnica
Región NTSC
Tutoriales
¿Como descargar?