Anime Hero V Black Edition PS2 ISO [Ntsc] [MG-MF]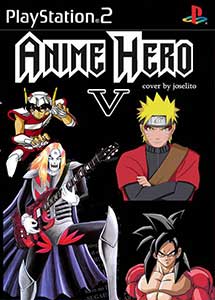 Descarga el juego de Guitar Hero 3 Anime Hero 5 Black Edition para la consola PlayStation 2 en formato ISO por MediaFire, Openload y MEGA.
Información
Esta no es una versión oficial en un mod para el Guitar Hero III Legends of rock en el cual se sustituyen las canciones originales, se puede jugar en las 4 dificultades. Al tratarse de un mod el juego puede presentar bugs, sobre todo en la jugabilidad.
Lista de canciones
1:
pegasus fantasy
minna no peace
velonica
Dbz – cha-la head cha-la
e-bacchikoi
2:
dandan kokoro hikareteru
closer
Brainstorm
A to Z
e-After dark
3:
Ready Steady Go
crazy raimbow
solar wind
Tsumasaki
e-haruka kanata
4:
Alones
hekireki
Rewrite
remember
e-hit in the usa
5:
pegasus forever
Tonight, Tonight, Tonight
dang dang
Chu-bura
e-we are
6:
boys and girls
d-tecnolife
innocent sorrow
unnamed world
e-ichirin no hana
7:
satsugai
What´s Up People
1/3 no junjou na kanjou
lost my music
e-detarame na zanzou
8:
Raison D´etre
Zetsubou Billy
x-japan
god knows
Bonus:
99 percent
Alumina
believe
blue forever
Brand New World
Brave heart
doukoku no ame
Fire
Fukai mori
howling
illusion
kokoro no chizu
life
lucy
makka na chikai
mienai tsubasa
namikaze satellite
resonance
Roling star
sanagi
shining soul
strength
under star
tower of druaga Op
winterlong
Cooperative
gekidou
Colors of the heart
endscape
88
The world
Distance
Anime Hero V Black Edition para PS2 Ficha Técnica
Región NTSC
Para poder extraer este comprimido se necesita la versión de WinRar 5.40 o superior.
Formato: ISO
Región: NTSC
Idioma: (Inglés)
Plataforma: PlayStation 2
Peso: 1.92 GB
Servidor: MEGA
   Parte 1    Parte 2
Servidor: MediaFire
   Parte 1    Parte 2
Servidor: Openload
   Parte 1    Parte 2
Tutoriales
¿Como descargar?