Anime Hero Zero PS2 ISO [Ntsc] [MG-MF]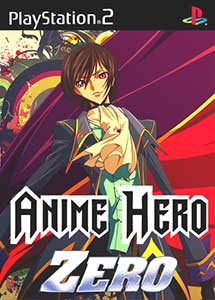 Descarga el juego de Guitar Hero II Anime Hero Zero para la consola PlayStation 2 en formato ISO por MediaFire, Openload y MEGA.
Información
Esta no es una versión oficial en un mod para el Guitar Hero 2 en el cual se sustituyen las canciones originales. Se puede jugar en las dificultades de medio y experto. Al tratarse de un mod el juego puede presentar bugs, sobre todo en la jugabilidad.
Lista de canciones
Movin On – Spyair
Honey Sweet Tea Time – K-ON!
6900000000 – Hatsune Miku
Yume Sekai – Sword Art Online
Starlight Heaven – Sekai no Owari
Et cetera – One Ok Rock
By My Side – Naruto Shippuden
Kimi no Taiyou ga Shinda ni – High School of the Dead
Skyreach – Akame ga Kill
Unravel – Tokyo Ghoul
Ignite – Sword Art Online
Kimi to iu Hana – Asian Kung-Fu Generation
Evolution – Beck: Mongolian Chop Squad
Diver – Boruto: Naruto The Movie
Ore wa Tokoton Tomaranai!! – Dragon Ball Z
Re:make – One Ok Rock
Kuso Breakin nou Breakin Lily – Maximum The Hormone
Cha la Head Cha la – Dragon Ball Z (Animetal)
Hikari no Rock – Bleach
Place to Try – Naruto Shippuden
Silhouette – Naruto Shippuden
Let me Hear – Parasyte Kiseijuu sei no Kakuritsu
Innocence – Sword Art Online
Just One Life – Samurai Flamenco
High School of the Dead – High School of the Dead
Thunderclap – Fear, and Loathing in las Vegas
Kuusou Mesorogiwi – Mirai Nikki
Bari Bari Saikyou – Jigoku Sensei Nube
Kurenai – X-Japan
Great Escape – Shingeki no Kyojin
Anime Hero Zero para PS2 Ficha Técnica
Región NTSC
Tutoriales
¿Como descargar?
Para poder extraer este comprimido se necesita la versión de WinRar 5.40 o superior.