Guitar Hero Live PS2 ISO [Ntsc] [Español] [Mega]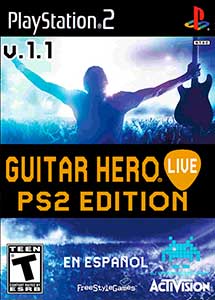 Descarga el juego de Guitar Hero Live en Español para la consola PlayStation 2 en formato ISO por MEGA.
INFORMACIÓN
Esta no es una versión oficial en un mod para el Guitar Hero III Legends of rock en el cual se sustituyen las canciones originales, el cual incluye las siguiente características.
Mejoras en textos, texturas e imágenes para que se parezca al Guitar Hero Live Oficial
Canciones exclusivas para esta versión aparte de las canciones oficiales del juego
La guitarra y el sonido de la canción se escucha aparte como si fuera el Guitar Hero Oficial (Hay separación de algunas canciones que son experimentales porque no se pudo encontrar los instrumentos separados, pero son unos pocos asi que se podrá disfrutar al máximo)
La tienda para comprar las canciones extras tienen sus respectivos nombres y la información de cada canción y cuando fue creado y en que álbum se puede hallar la canción
LISTA DE CANCIONES
1.MODO EN VIVO
Bruno Mars – Just The Way You Are
Carly Rae Jepsen – Call Me Maybe
Linkin Park – In The End
Fun. ft. Janelle Moné – We Are Young
Encore: Fall Out Boy – My Songs Know What You Did In The Dark
Co-op Encore: Bruno Mars – Grenade
2.MODO TV:
Charli XCX – Famous
Nirvana – Come As You Are (Unplugged)
Pink – Raise Your Glass
Cobra Starship (ft. Sabi) – You Make Me Feel
Boss: Tom Morello: Guitar Battle
Encore: Linkin Park – Burn It Down
Co-op Encore: Bruno Mars – Marry You
3.SUPREME PARTY EDITION VERSION PS2 PACK.1:
Calvin Harris – Feel So Close
Foo Fighters – Walk
Imagine Dragons – Radioactive
Deftones – Diamond Eyes
Encore: Muse – Resistance
Co-op Encore: Paramore – Crushcrushcrush
4.SUPREME PARTY EDITION VERSION PS2 PACK.2:
Evanescence – Going Under
Paramore – That's What You Get
30 Seconds to Mars – Kings and Queens
Yeah Yeah Yeahs – Dull Life
Gorillaz – Clint Eastwood
Co-op Encore: 30 Seconds to Mars – Attack
5.EXCLUSIVOS PARA GUITAR HERO LIVE PS2:
Paramore – The Only Exception
Queen – I Want It All
Red Hot Chili Peppers – Higher Ground
Lenny Kravitz – Fly Away
Boss: Slash- Guitar Battle
Encore: Skrillex – Bangarang (feat. Sirah)
Co-op Encore: Linkin Park – Shadow of the Day
6.NUEVOS PACKS MODO TV:
Coldplay – Adventure Of A LifeTime
Paramore – Brick By Boring Brick
System of a Down – Aerials
Tenacious D – Tribute
Encore: Avenged Sevenfold – Shepherd of Fire
Co-op Encore: Avenged Sevenfold – Acid Rain
7.NUEVOS PACKS MODO LIVE:
Nirvana – Sappy
System Of a Down – Lonely Day
My Chemical Romance – Na Na Na
Megadeth – Hangar 18
Encore: Ed Sheeran – Sing
8.SUPREME PARTY EDITION VERSION IMPOSIBLE:
Pantera – Walk
System of a Down – Chop Suey
Papa Roach – Last Resort
Avenged Sevenfold – Hail To The King
Boss: Lou: Guitar Battle
Canciones bonus:
Avenged Sevenfold – Coming Home
Avenged Sevenfold – Crimson Day
Avenged Sevenfold – Hail To The King (Experto)
Avenged Sevenfold – Heretic
Avenged Sevenfold – Planets
Avenged Sevenfold – St James (Bonus Track)
Avenged Sevenfold – This Means War
Avenged Sevenfold- Doing Time
Avenged Sevenfold- Requiem
30 Seconds to Mars – From Yesterday
Linkin Park – Breaking the Habit
Pink – So What
System of a Down – Hypnotize
Nirvana – School
Coldplay – Clocks
Coldplay – Every Teardrop is a Waterfall
Coldplay – Viva la Vida
Evanescence – Call Me When You're Sober
Evanescence – Everybody's fool
Evanescence – Lithium
Evanescence – Weight of the World
Evanescence – What you want
The Cranberries – Zombie
FamilyJules – Kirby Guitar Medley
Koji Kondo – Super Mario 64 Medley
IMPORTANTE
El juego necesita ser configurado para que los textos e imágenes se vean correctamente. Para ello es recomendable hacer lo siguiente.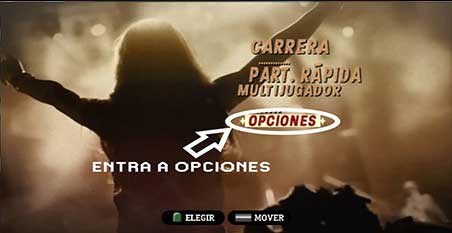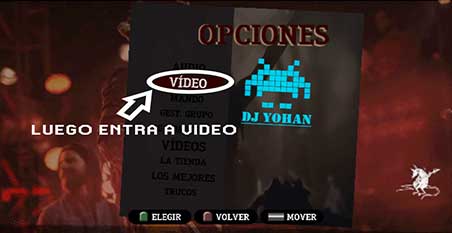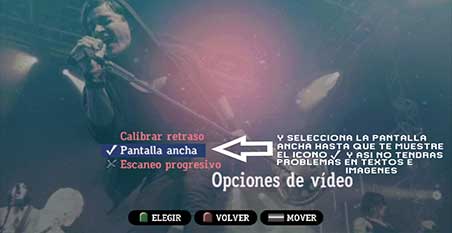 Guitar Hero Live para PS2 Ficha Técnica
Región NTSC
Tutoriales
¿Como descargar?
Para poder extraer este comprimido se necesita la versión de WinRar 5.40 o superior.
Musical