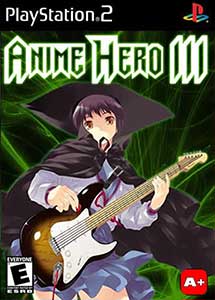 Descarga el juego de Guitar Hero 2 Anime Hero III Revolution para la consola PlayStation 2 en formato ISO por MediaFire, Openload y MEGA.
Información
Esta no es una versión oficial en un mod para el Guitar Hero 2 en el cual se sustituyen las canciones originales. Al tratarse de un mod el juego puede presentar bugs, sobre todo en la jugabilidad.
Lista de canciones
Katekyo Hitman Reborn! – Drawing Days
Birdy the Mighty Decode – Let's go Together
Tekkonkinkreet – Aru Machi no Gunjou
Gintama – Pray
Tower of Druaga – Swinging
Red Garden – Oh My Juliet
Eyeshield 21 – Dang Dang
Gintama – DonTenOver
Drive – Saihate no Parade
Yu-Gi-Oh! GX – Genkai Battle
Zatch Bell – Mienai Tsubasa
Red Garden – Rock The LMC
Yu-Gi-Oh! GX – 99%
Code Geass R2 – World End
Gintama – Sanagi
Ookiku Furikabutte – Dramatic
Code Geass – Astro Slider
Death Note – Ls Theme B
Naruto – Naruto Main Theme
Katekyo Hitman Reborn – Boys Girls
One Piece – Crazy Rainbow
Bleach – Velonica
Naruto – Closer
CDZ – Pegasus Forever
Naruto – Bacchikoi
Fatal Fury – Keep on Calling
CDZ – Blue Forever
Katekyo Hitman Reborn – 88
Nana – Lucy
Naruto – Raising Fighting Spirit
Soul Eater – STRENGTH
Katekyo Hitman reborn – Last Cross
Juushin Enbu Hero Tales – Flashback
Hajime no Ippo NC – Hekireki
Nijuu Mensou no Musume – Unnamed World
Detroit Metal City – SATSUGAI
Eyeshield 21 – Run to Win
Koi suru Tenshi Angelique 2 – Doukoku no Ame
Bleach – Number One
Blassreiter – Detarame na Zanzou
Bonus Tracks
Gintama – Anata MAGIC
X 1999 – eX Dream
Katekyo Hitman Reborn – Echo Again
Yu-Gi-Oh GX – Eyes
Gensoumaden Saiyuki Reload Gunlock – Mitsumeteitai
GTO – Drivers High
Fate Stay Night – Kirameku Namida wa Hoshi ni
Ikkitousen Dragon Destiny – Heart & Soul
Over Drive – WINDER Boku wa Koko ni Iru
Shaman King – Northern Lights
Yu – Gi – Oh! – Overlap
Nana – RoseBleach – Thank You
Ikkitousen Great Guardians – No x Limit!
Air Master – Retsu no matataki
Get Backers – Yuragu Koto Nai Ai
Tactical Roar – Tatta Hitotsu Dake
Bleach – Hitohira no Hanabira
Viewtiful Joe – And You & Brighter Side
Gintama – Candy Line & Yuki no Tsubasa
Gintama – Shura & Giniro no Sora
Gintama – Fuusen Gam & Signa
Death Note – Ls Theme & lights
Game Music – Sonic
Anime Hero 3 Revolution para PS2 Ficha Técnica
Región NTSC
Tutoriales
¿Como descargar?